About the app
Globally, one out of three women lack access to basic knowledge concerning hygiene matters, lack sufficient sanitary facilities, and are surrounded by misconceptions and stigma's concerning their reproductive health and rights.
Periods, fertility, contraception, intercourse, pregnancy and more aren't properly covered by structured education or parental guidance which lead to misunderstanding, misinformation and a reluctance to adopt healthy practices and attitudes. This further negatively impacts the potential of young women in all aspects of their lives.
Meri Body (meaning "my body" in Hindi), an e-health product, uses mobile technology to enhance this knowledge of female hygiene matters. The app aims to empower and educate millions of (semi) literate young women (aged 13-25) on body literacy using simple animation videos, with multilingual voiceovers in a country where technology is increasingly becoming the most important way to access information and a way of life. Our unique feature is that no other application in the world provides content relevant to the female cycle for the uneducated female population.
Gently talking about sensitive subjects to encourage young women to break the taboos that still exist in India
Intuitive and simple design means even illiterate women in rural areas can learn about the sexual and reproductive aspects
Creating a community of educated girls and connecting to certified medical advice and help when required
App features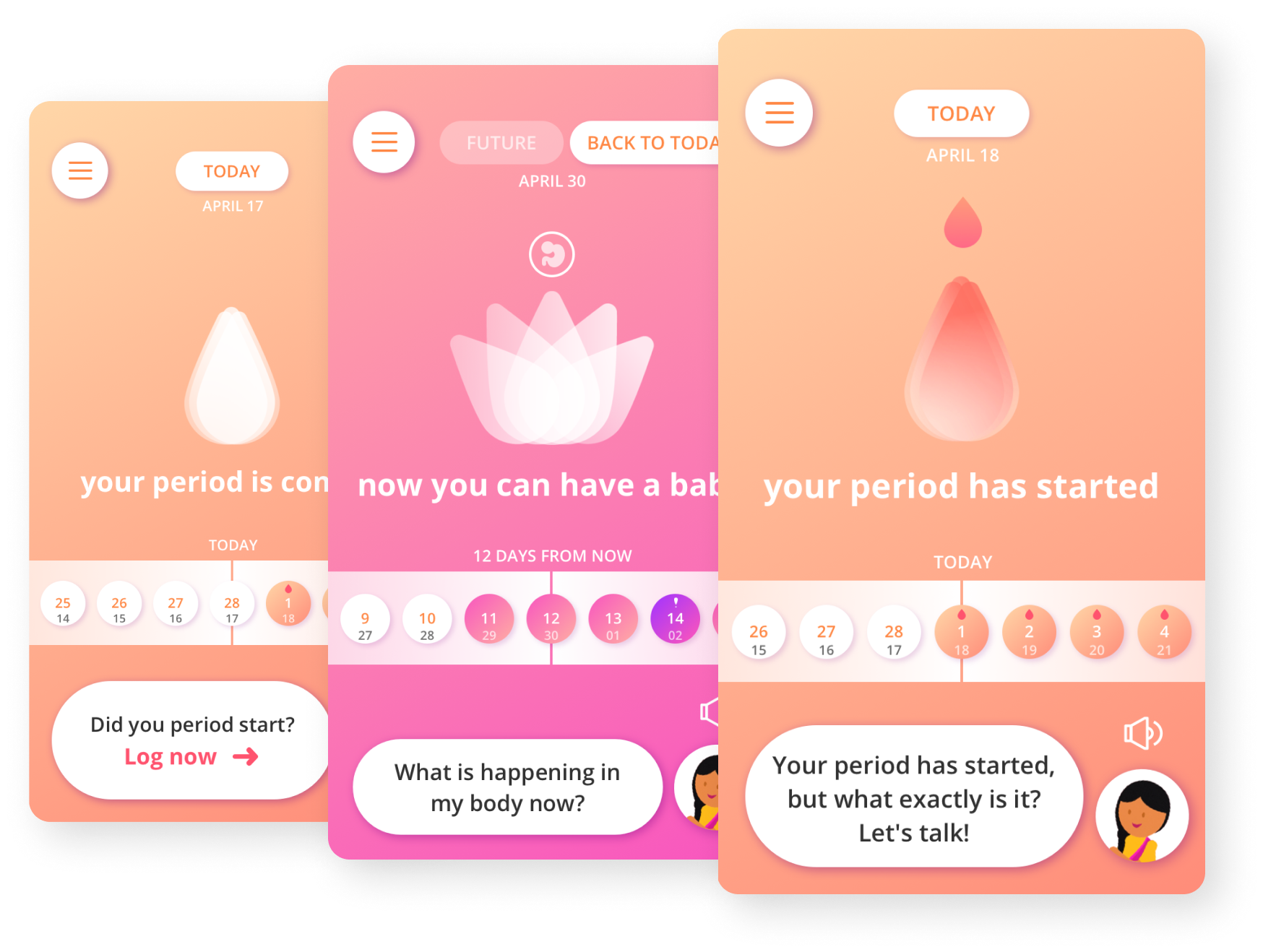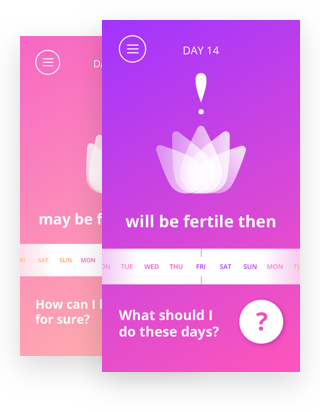 Daily status and education
Education within the app focuses on topics like body science, periods, contraception, fertility, family planning, sexuality and reproduction. With data driven technology and prediction modeling, the Meri Body app enables women to track their menstrual cycle on a daily basis.
The functionality guides the women to recognize the days when they can expect to be bleeding, when they are fertile, how and when to use contraception and educate them on reproduction. The goal is for them to take ownership and be capable of making informed choices.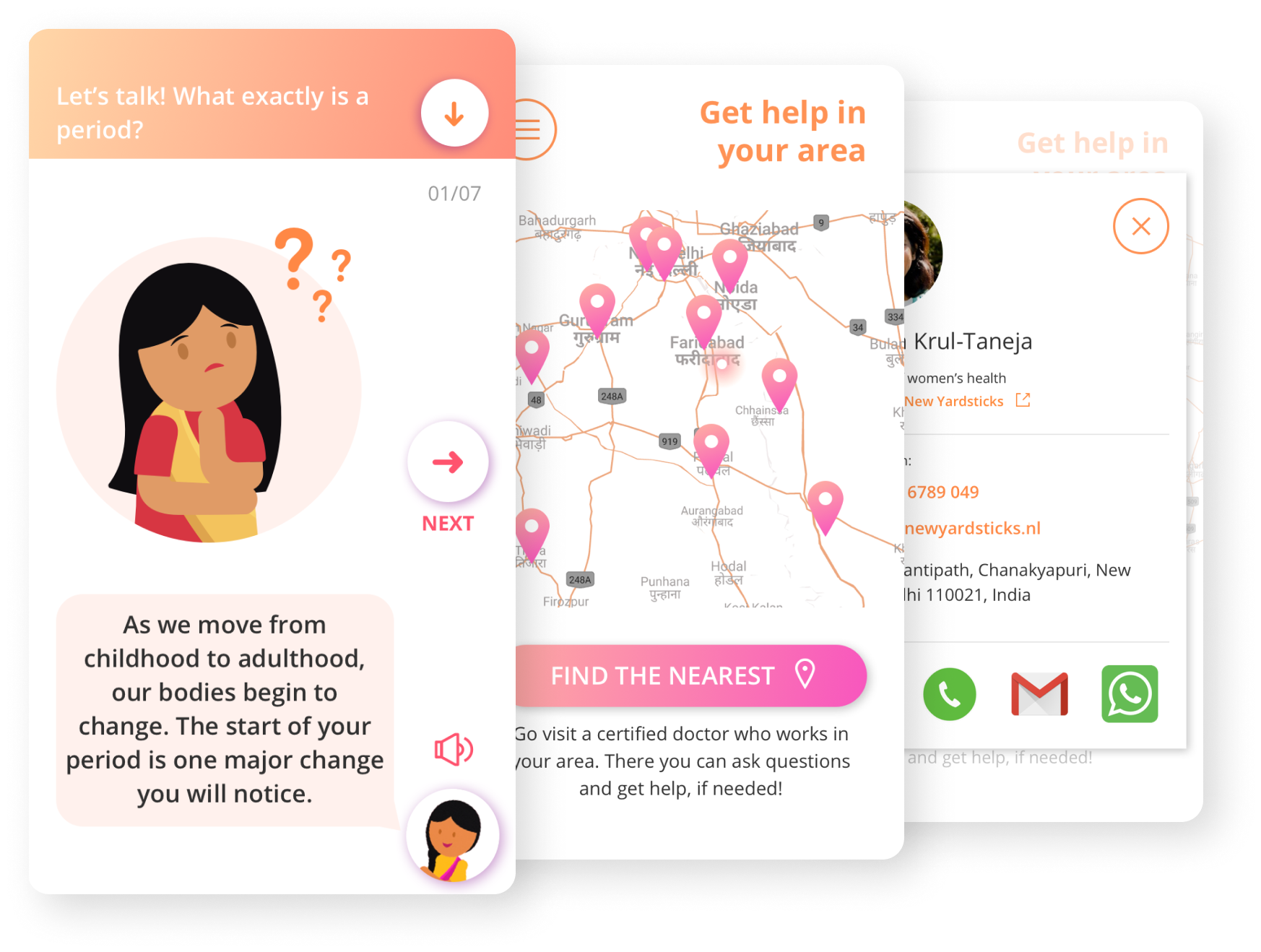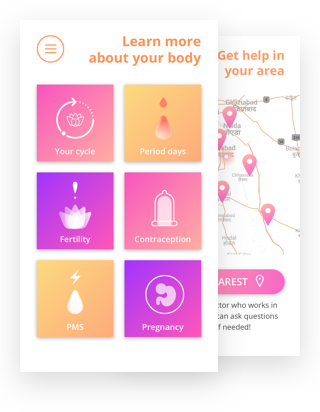 Learn and get help from local organisations all across India
We are continuously establishing long term relationships with Schools, Universities, NGO's and Multinationals to collaborate intensively and educate the young women within their communities. This enables us to interact and offer holistic approach while thinking Global and working with local centers.
These large scale collaborations are an essential part of the app's offerings. We can easily connect young women to the services of certified doctors and healthcare practitioners who can answer questions and give help when needed.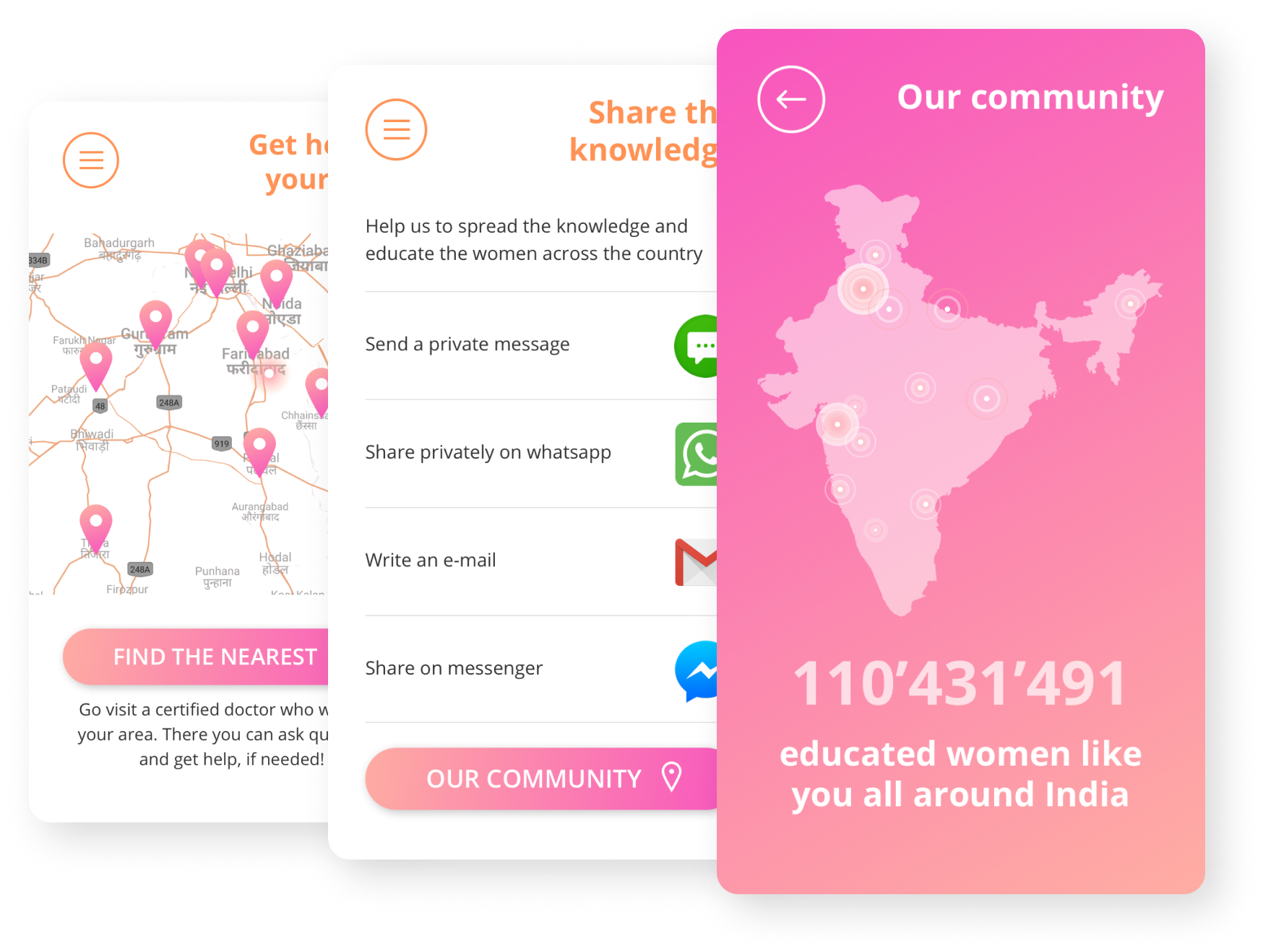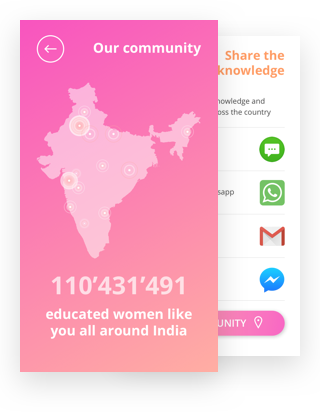 Join a community of empowered and educated women
Peer support is crucial to Meri Body's success. Localised centres will be used to spread knowledge of the app and grow communities of empowered and educated women.
In addition to the educational content, our company aims to familiarize these women on the importance of using adequate hygiene products, contraceptives and sexual protection products. To ensure access to quality hygiene products for the end-users, our company will have internal quality control mechanisms and will accept advertising of products in-line with the highest international standards and medical requirements.
With grants and subsidies we intend to move from basic to an advance prototype level and to achieve the primary market penetration which will create the first 200 000 - 300 000 users. We expect the number of end-users to double during 2021 and to multiply in the upcoming years. In five years, we expect to have at least 8 million users at Global level and to generate revenues of EUR 8-10 million. Moreover, our business model is localized and requires offices in each local country. Subsequently, our expansion will open employment opportunities for many local women.
In this way, Meri Body will play an important role in the lives of the modern generation of young women who increasingly want to be in charge of their own lives and take their own decisions, through innovation and data driven analytics supporting the delivery of information.
Statistics in India
65%
of the population is younger than 35 years, more than 50% of citizens are younger than 25 years (48,5% are women)
46%
of all Indian women own mobile phones
(NFHS, 2016)
27%
of married women between the ages of 20-24 years got married before turning 18 years (NFHS, 2016)
Take action and join us now
If you would like to become part of the Meri Body to empower and educate Indian women on body literacy we would like to connect with you.

Namita Krul-Taneja
Founder and Social Entrepreneur
Meet the change makers

Namita Taneja Krul
Imke Grens

Jelke Schippers
Dārta Liepkalne

Panji Widoyono

Sasja van der Leeuw

Patrick Krul

Development team